Updated: This post was originally published in 2013; however, it has most recently been reviewed and updated in July 2017 to update links and ensure pricing is accurate for the Back to School Season.
There are a few features you want to look for when shopping for boys pants for school. Top quality boys school uniform pants will contain all of the following features:
Adjustable Waist - boys can grow quite a bit over a school year. Ideally you want to buy new pants a bit on the big side and be able to adjust the waist smaller for a comfortable fit. Throughout the year, you can let out the waist as needed.
Stain Resistant - The playground and the lunchroom are all places your son will visit daily and they are the most likely places to encounter spills and acquire stains. The stain resistant fabrics make it easier to keep the laundry regiment simple.
Wrinkle Resistant - When you drop your son off for school in the morning, you want him to look his best. However, few of us have time for ironing the laundry. Wrinkle resistant pants look great right out of the dryer.
Reinforced Knees - Kids spend a good deal of time on the floor of the classroom or library, running around in PE and on the playground at recess. Basic pants aren't meant to take that type of abuse. Lucky for us many of the uniform retailers make school pants with reinforced knees to help prevent wholes in the knees.
Regular retail prices for the basic boys school uniform pants range from $10 to $30. Based on my review, your target price should be to find boys uniform pants for under $15 per pair. When you are watching the Back to School ads or out shopping, when you find a pair that at or below that target price range with the features listed above, make the purchase with confidence that you've found a good sale price.
Disclosure – Affiliate Links in Use
Thanks for supporting Uniform Mom
Best on a Budget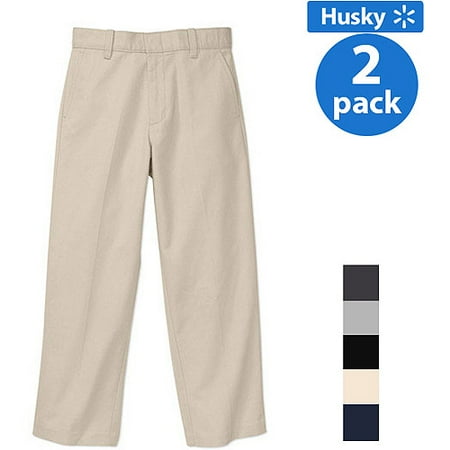 Walmart George Boys' Flat Front Pants
(featured on right)
Navy, Black, Gary, Granite, & Khaki
Cotton blend.
Reinforced knees for durability.
Treated with Scotchgard protector.
Adjustable waistband. Wrinkle resistant.
Navy and Khaki
60% Cotton, 40% Polyester.
Machine Wash Cold. Made in Bangladesh
$14.00
CookiesKids U.S. Polo Assn. Boys Flat Front Pants
Navy and Khaki
60% Cotton, 40% Polyester.
Machine Wash Cold. Made in Bangladesh
$14.99
Best Bets for Slim Fit
Best Bets for Husky Fit
Related Posts: